Maths
Our whole school vision: 'Every Child Numerate' encapsulates our ambition for our pupils in mathematics. We strife for all our pupils to have secure conceptual and procedural understanding of basic skills and apply this confidently and independently in problem-solving throughout their learning and into their adult life.
Through a positive, nurturing environment, we, at Barton Moss, encourage confidence in the subject and a love of mathematics, to enable every child to reach their full potential. We promote a 'can do' attitude to maths without the fear of making mistakes. Every mistake is marvellous! Children will be given time, support and resources to develop an in-depth understanding of maths, because we believe that every child is entitled to a good mathematical education.
In September 2017, Barton Moss started its journey towards a mastery approach to the teaching and learning of mathematics. We understand that this will be a gradual process and may take time to fully embed. The rationale behind changing our approach to teaching mathematics arose from our involvement in the NCETM Maths Hub and Teaching for Mastery Programme and our belief in the philosophy that all children can achieve, as well as the 2014 National Curriculum, which states:
The expectation is that most pupils will move through the programmes of study at broadly the same pace.
Pupils who grasp concepts rapidly should be challenged through being offered rich and sophisticated problems before any acceleration through new content.
Those who are not sufficiently fluent with earlier material should consolidate their understanding, including through additional practice, before moving on.
The 5 Big Ideas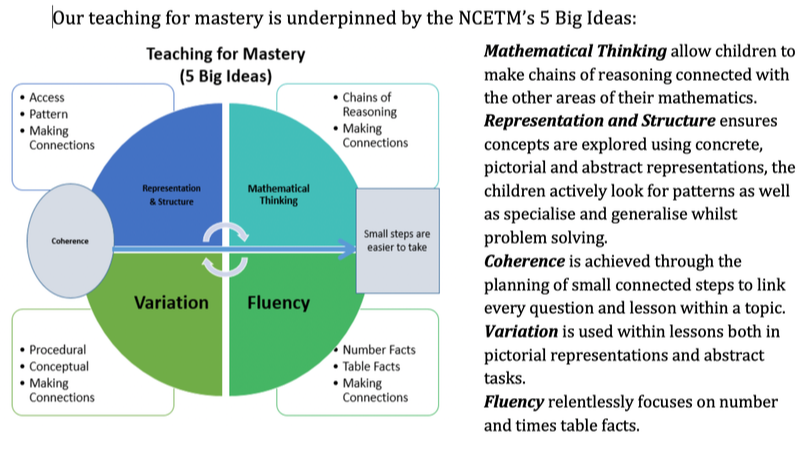 We offer our children an engaging, balanced mathematics curriculum and good quality teaching to produce individuals who are numerate, creative, independent, inquisitive, enquiring and confident.
We aim that all pupils:
Become fluent in the fundamentals of mathematics so that they develop conceptual understanding and the ability to recall and apply knowledge rapidly and accurately.
Can solve problems by applying their mathematics to a variety of problems with increasing sophistication, including in unfamiliar contexts and to model real-life scenarios.
Can reason mathematically by following a line of enquiry and develop and present a justification, argument or proof using mathematical language.
Our pupils will:
be fluent in basic skills through consistent and regular practise and the use of sentence stems in basic skills lessons.
be confident in using concrete, pictorial and abstract representations for basic skills and problem-solving scenarios.
be competent and confident in taking risks to apply mathematical knowledge, concepts and skills.
be able to solve problems, reason mathematically and think logically using small steps.
be able to work independently and in cooperation with others.
be able to use and apply mathematics across the curriculum, and to understand the application of mathematics in real life contexts and scenarios.